Billboards For Christ - North Shore
Proclaiming Christ on the North Shore
Ministry Profile Frequently Asked Questions Testimony Contact
So is My Word that goes out from My mouth: It will not return to Me empty, but will accomplish what I desire and achieve the purpose for which I sent it. Isaiah 55:11
This we rest in, Lean on, And give great praise to The Word - LORD GOD ALMIGHTY. ~your humble North Shore servants
MINISTRY PROFILE - Billboards for Christ for the North Shore is dedicated to putting God's Word on billboards in the North Shore area of Massachusetts. Our mission is to raise money for Billboards for Christ, Inc., a non-profit 501C(3), non-denominational ministry located in Chester, Maryland in order to post God's Word on the North Shore of Massachusetts. Billboards for Christ, Inc.'s mission statement, financial policy, endorsements, history, BFC Testimony, and more details can be found on BFC. Please note that BFC does not hire anyone for fundraising. We are not accountable for funds which are not sent to our P.O. Box 27, Chester MD, 21619 and deposited directly into our bank account. As always, 100% of every donation made out to Billboards for Christ, Inc. goes only to the manufacturing and posting God's Word on billboards, bus shelters, and bumper stickers. No one receives any compensation for their services. BFC is joyfully run by volunteers, servants of the Lord Jesus Christ! Colossians 3:23,24 To learn how "North Shore" got started, please read NorthShore testimony.
The purpose for posting God's Word throughout the North Shore is to have God speak to each reader directly. God's Word, which never returns void, will speak His Word to each of them. There is much pain, anger, regret, sorrow, and hopelessness in our area. Only the Word of God, the Lord Jesus Christ ( John 1:1-4, 12-14), can make the difference in a person's soul. The Word of God speaks Truth to set the captives free and Compassion to heal their hearts for a blessed life. God's invitation, Come to Me, verifies God's desire to have a relationship with the reader. God, once again, is choosing to come down to our every day life to bring hope to the ones who need it most. Would you choose to help reach with God's hand of compassion? As with previous billboards, we trust God can and will change hearts on the North Shore of MA with the help of His children.
For the Word of God is living and active. Sharper than any double-edged sword, it penetrates even to dividing soul and spirit, joints and marrow; it judges the thoughts and attitudes of the heart. Hebrews 4:12
Billboards For Christ gives the opportunity for fellow believers to donate (100% tax deductible) and be a part of ministering to those who would never enter a church, listen to a sermon, or keep on a station/channel where the Lord Jesus Christ is exalted.
Even more exciting is that the Lord's Word does all of the work!! In Isaiah 55:11 He states that His Word will accomplish what He has sent it out to do! Here we see that God sends His Word out and we watch His fruitfulness!! In Hebrews 4:12 the Lord says, "For the Word of God is living and active. Sharper than any double-edged sword, it penetrates even to dividing soul and spirit, joints and marrow; It judges the thoughts and attitudes of the heart." Here Jesus reveals that He is alive and active. Jesus, the Word of God, exposes to the reader's heart Who God is and where he or she stands in a relationship with God, righteous or unrighteous. The arm of the LORD is not too short to save, Isaiah 59:1, and the Lord draws the reader to Himself.
On each billboard or bus shelter, beneath the Scripture, is listed one of our two websites, either BillboardsforChrist.org or NeedHope.Net. Consequently, the reader has an opportunity to log on and look up the Scripture posted. The websites give instruction on the Word of God along with an invitation to receive Jesus Christ as his or her personal Savior. Follow-up on new Christians is also given.
God has been posting His Word for millions of people to read throughout the USA since 2000. God has encouraged thousands of people daily. We encourage you to read the websites, www.NeedHope.Net and www.BillboardsforChrist.org for your own encouragement and edification, and to pass them on to others.
Sponsors in the form of churches, groups, or individuals may post an invitation on this website to come worship with them at their Christian church. Sponsors may submit their own personal testimony along with a link to their business or organization's webpage (pending approval). Please note our financial policy. We can be reached via Inquiry Form.
A Sign from God
Praise be to the Lord Jesus Christ for His indescribable Gift!!
Below are just two copies of the Word of God posted on billboards!
For Example,

Another Example,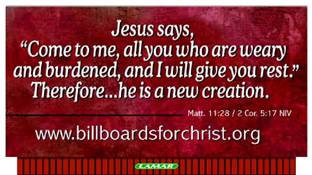 Highway Billboards: Posting of God's Word appears on major highways of many major cities from coast to coast in the USA. Each day hundreds of thousands of people read God's Word!! The purpose of having our web address on the billboard is to follow up with an invitation for the viewer to have a personal relationship with the Lord Jesus Christ. Instruction is posted on this web site along with references to other organizations which can offer edification, education, and services in Christ. Bring me to the copies of the posted highway billboards. Bring me to past postings. Bring me to Financial Policy.
Scripture Bumper Stickers: We recently added bumper stickers to our outreach. Bring me to your list of Bumper Stickers!
Billboards for Christ - North Shore can be by email at: BFC.NorthShore@gmail.com
Billboards for Christ, Inc. – The Corporation can be reached by postal mail at:
Billboards for Christ, Inc. - P.O. Box 27, Chester, MD USA 21619-0027
I have some questions about God.